At Waterloo Heights Dental, we believe everyone deserves to be healthy. Our mission is to help you achieve and maintain optimum health and wellness through comprehensive, preventive dental care. Our philosophy of care is founded upon the fact that the mouth is an integrated part of your entire body, and that oral health and overall health go hand in hand. We promise to meet you wherever you are in your oral health and wellness journey and to build a relationship with you founded on trust and respect. This is what sets us apart. Our team has been together for over 20 years, providing great care for our friends and neighbors in West Salem. We look forward to smiling with you!
Marwin Goff, DDS
With almost four decades practicing in this field, I think I can safely say that the art of dentistry suits me well. I was drawn to this profession as a young man. A big part of the appeal of dentistry for me boiled down to two main factors: I loved providing care to patients, and I enjoyed working with my hands. At Waterloo Heights Dental today, I continue to feel that way about the world-class care and services we provide the people of West Salem and the surrounding communities.
Patient experience is always at the forefront of my mind. My integrity informs my desire to provide everyone who sits in my chair with the best dentistry possible. I take pride in my ability to provide personalized treatment to match my patients' needs, and I value the communication and education that goes along with those relationships. One of the keys to success in this profession is really listening to patients in order to provide the care they need, rather than carrying out a pre-conceived version of what you think they need. I strive to listen, educate, and present feedback in an effort to provide dentistry that is best for each individual.
Originally from Springfield, Missouri, I began my dental education at the University of London Medical School, College of Dentistry in 1979. I went on to graduate with a B.S. in Medical Technologies from the University of Nebraska Medical Center at Omaha in 1981. In 1985, I earned my D.D.S. from the University of Nebraska at Lincoln, College of Dentistry. My education has continued throughout the years to enhance my skills and knowledge in the areas of dental implants, cosmetic dentistry, root canals, dentures, and dental ethics. Today, I provide my patients with a full range of dental services that, in addition to the aforementioned, includes preventative care, endodontics, and periodontal surgery.
Outside of the dental office, I've enjoyed a broad range of activities, including working on my granddad's cattle and wheat farm in Nebraska and protecting bull riders as a rodeo clown. For years, I was an avid waterskier and tournament racquetball player. Some of the other activities I still enjoy are woodworking, piloting aircraft, rollerblading, and biking throughout the beautiful Coulee Region.
Treyce Sanderson, DDS
I joined the Waterloo Heights Dental team in June of 2021. I'm originally from Sault Ste. Marie, Michigan. After graduating from Sault Area High School, I earned my Bachelor of Science degree in Kinesiology, Honors College from Michigan State University. I then went on to earn my DDS from the University of Minnesota School of Dentistry.
What first drew me to the dental field was a bicycle accident I experienced at the age of 15: After having two of my teeth avulsed, I had to undergo endodontic treatments, and this was a very impactful for me and wound up being a very cool experience. Some of the things that I enjoy most about dentistry are the ability to work with my hands and the opportunity to help people, which I'm very passionate about.
Since joining our practice, I've contributed in a number of meaningful ways. I've brought a great deal of knowledge about new technology and techniques in dentistry. Additionally, I'm a team player and a hard worker who always works to ensure that our office is providing top-notch care for our patients. Having grown up in a small rural community, I appreciate the strong sense of community that West Salem has, and I look forward to providing our area with high-quality dental care in an enjoyable and welcoming setting.
Outside of the office, I like to hunt, fish, hike, and enjoy any outdoor activity. I always have my truck loaded down with gear for any opportunity for an adventure. I also enjoy cooking: I recently got a pellet grill and am always looking for new recipes to try. I'm very excited to be here and to be part of the team at Waterloo Heights. I look forward to meeting you in the office soon!
Mary Jo
Registered Dental Hygienist
I have been a dental hygienist for almost 40 years and have been a member of the team at Waterloo Heights Dental for over 30. I was born and raised in La Crosse and graduated from the University of Minnesota in 1976. I've received advanced training and certifications in laser dentistry as well as the BaleDoneen Preceptorship.
The best part of this job for me is helping people. I love getting to know my patients of all ages and helping them achieve health and wellness. I have witnessed many changes in the dental industry over the last 30 years and I love to see the advancements in treatments and technologies that allow us to provide even better patient care. I truly love helping people.
My husband, Mike, and I have three grown children – Joan who is also a dental hygienist, Maggie who is a medical transcriptionist, and Dan who is a mountain enthusiast for Yetti, Inc. I have enjoyed watching my children grow and become parents themselves, and I now have five beautiful grandchildren whom I love spending time with.
In my free time, I enjoy reading, gardening, traveling, practicing yoga, and working on my singing career with my band Studebaker 7.  I thoroughly enjoy working for Waterloo Heights and embracing new challenges every day!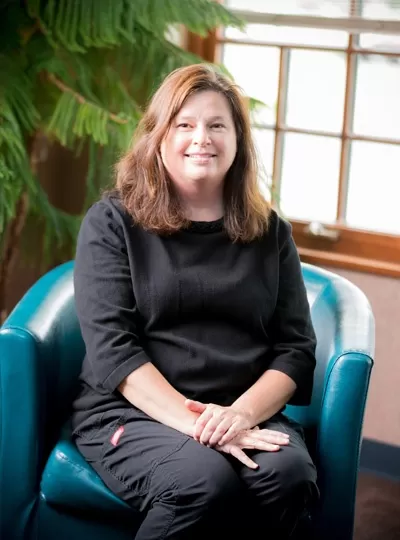 Wendy
Registered Dental Hygienist
I have been a dental hygienist for many years and have been with the team at Waterloo Heights Dental since 2000.  I grew up in Holmen, moved to West Salem in high school, and currently live in Bangor. I received my associate's degree in dental hygiene from Riverland Technical College in 1995, and my bachelor's degree in dental hygiene from Minnesota State in 2010. I am certified in local anesthesia, laser dentistry, and have achieved BaleDoneen Preceptorship relating to preventive dentistry and cardiology.
The best part of this job for me is helping people overcome their dental obstacles, fears, and concerns. I love being able to help patients achieve healthy smiles and overall health. I truly value working with such an exceptional team and feel that continuing education and getting to personally know the patients are key to providing the best overall care.
My husband, Kevin, and I have three children – Lindsey, Travis, and Kelsey – and three grandchildren – Declan, Ryleigh, and Norah. When I'm not helping patients in the office, I enjoy spending time with my family and friends, gardening, canning, reading, and traveling.
Amber
Registered Dental Hygienist
I have been with Waterloo Heights Dental since the year 2012. I started with the team as a Dental Assistant. After 4 years working as a Dental Assistant, I decided to advance and further my career. In 2018, I graduated from Chippewa Valley Technical College with my Dental Hygiene degree. During my schooling I received valuable education and advanced training in local anesthesia, nitrous oxide, and laser bacterial reduction. My favorite part of this job is providing valuable care and education while establishing trusting relationships with patients.
I am originally from Rockland and now reside in Bangor with my husband, Andrew; my step daughter, Niya; and our dog, Ruger. When not caring for patients, I love to travel, hike, and spend time with family and friends.
I have over 20 years of experience in dentistry and have been a dental assistant at Waterloo Heights Dental for over a decade. I am a hometown girl, born and raised right here in West Salem! I received my dental assisting education from Western Technical College (WWTC) in 1990, and have additional training in CPR and basic life support.
For me, the best part of this job is meeting new people and changing lives, whether it's helping with a simple filling or a whole new smile. When someone smiles for the first time in a long time because of our care, it is truly a priceless feeling that brings tears to my eyes. I strive to make every dental experience a good one. I thoroughly explain what to expect and what your dental needs are, and help you have a relaxed and comfortable experience.
My husband, Paul, and I have been married for over 20 years, and we have three children – Justin, Jayden and Jarron. I have loved watching them in all their activities including baseball, choir, band, and theatre. When I'm not at the office helping patients, I enjoy walking my dog, Harley, reading, and spending time with family and friends.
I recently joined the Waterloo Heights Dental team in the spring of 2019, shortly after graduating from my dental assisting program with the National Dental Academy of Wisconsin. I have additional medical training in Basic Life Support, and I am CPR/AED Certified. I was initially interested in dentistry because I have always had a love for teeth and making people smile! In my opinion, everyone deserves a beautiful smile. Here at Waterloo Heights Dental, I am extremely lucky that I get to work with other professionals in the dental industry and continue to learn more and more about dentistry everyday. The team here has been more than welcoming to me, helping me to grow in my skills both personally and professionally. I also really enjoy interacting with patients and helping them through their appointments.
I grew up just outside of Sparta on a hobby farm and went to Sparta High School. I currently live in Mindoro with my boyfriend, Derek, our two golden retrievers, Maverick and Bugs, and our cat, Oakley. When I'm not at the office, I enjoy coaching figure skating with the Tri-State Toe Picks, and I work with skaters during private figure skating lessons as well. I also am very passionate about being outdoors, so you may find me outside hunting, fishing, hiking and enjoying time with family in my spare time.

I look forward to meeting you in the office — if you see me in the hallway be sure to say hi!
I have been a member of the team at Waterloo Heights Dental for over 15 years and enjoy being a part of this great dental practice. I was born and raised in Davenport, Iowa, and moved to Wisconsin over 30 years ago. After high school, I lived in Germany for two years before returning to Davenport where I graduated from Palmer College. I have enjoyed various dental education seminars and certifications over the last 15 years, as we pride ourselves on keeping up with latest and greatest in dentistry.
Waterloo Heights is blessed with the best patients. I am rewarded every day by their smiles, bringing a smile to my face as well. I am fortunate to be part of an awesome team that encourages creativity, and cares and shares together.
I live in Medary in Onalaska with my husband, Dan, and our lovable black lab, River. I have two grown sons, Ryan and Chris. When I'm not in the office helping patients, I love motorcycling, singing, camping, hiking, and watching football. I love the Green Bay Packers and the Wisconsin Badgers, of course!
Waterloo Heights Dental
1403 Waterloo Avenue
West Salem, WI 54669
Get Directions
Monday – Thursday
7:30 am – 5:00 pm
AFTER HOURS?